Come in – the studio is open!
May 22, 2022
11:00 a.m. – 5:00 p.m
Location: Lohenstraße 18, 82166 Gräfelfing (in the commercial area)
I am happy to answer any questions about my art. Interested visitors get an insight into how and where I work, what drives me in my art and which pictures or series of works have been created in the last few weeks and months. The focus is on the completely new works, mainly abstract collages with coffee and soot, as well as works in mixed media with ash and pigments, mainly in turquoise and earth tones. I will also be happy to show abstract acrylic paintings and the new series of glamour gems.
I am looking forward to your visit!
Parking: in front of the studio or in the courtyard
Frock Gallery Ypres
20th May – 30th June 2022
Frock Gallery Rijselstraat 26, 8900 Ieper, Belgium
The Frock Gallery, a gallery for contemporary art, opens in Ypres / Belgium. Around 20 artists are represented in Matt Frock's gallery and I've been one of them from the start! Yesterday I sent another 7 paintings to Belgium, so that a total of 11 of my works can now be shown there at the opening exhibition. I'm very excited and looking forward to the opportunity to increase my customer base in Belgium.
If you happen to be in Ypres / Belgium, be sure to stop by! The pictures I've seen so far from the newly renovated gallery are great.
Royal Academy Summer Exhibition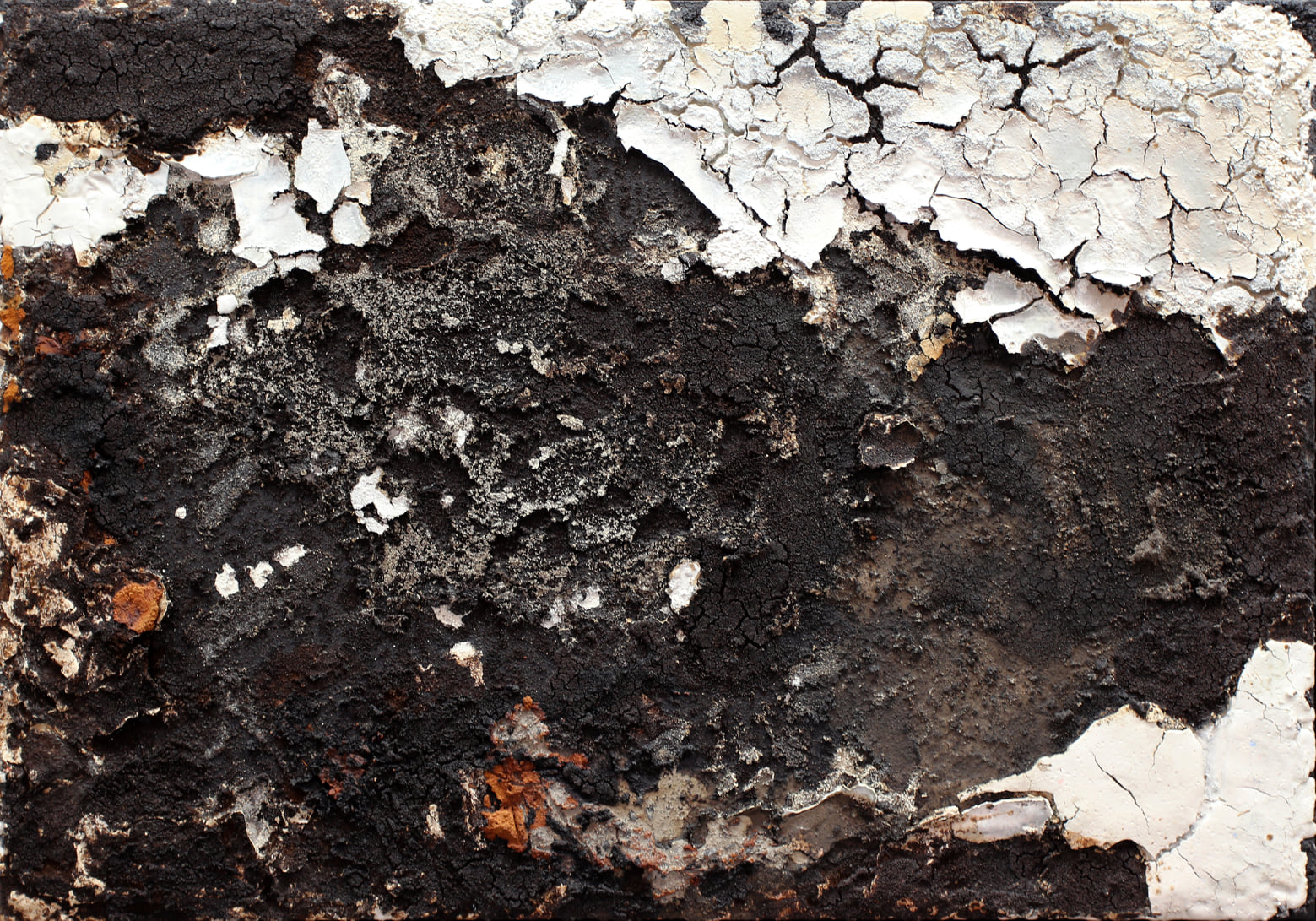 Nominated by the Royal Academy in London
In 2018 I created an informal mixed media painting with ground coffee, ash, rust and marble dust which I titeld "Dystopia" . This picture is very special, very porous, very heavy and – as the name suggests – quite a bit depressing. So actually almost unsaleable, at least for my customers. But quite memorable.
The Royal Academy of Art holds a summer exhibition each year with a specific theme and any artist anywhere in the world can apply. The rush is gigantic, around 16,000 applications were received. This year there is an exhibition on the subject of "Climate" . Well, just for fun and luck, I submitted my work "Dystopia". And indeed, I was able to assert myself in the first round and have now been nominated to submit my painting "in real".
"Of course I will!" – I thought to myself, "nominated by the Royal Academy! – That alone is mega!" – Well, said and not so easily done. In order to actually be able to sell my picture in Great Britain, an additional British tax number is required, my European tax number is no longer sufficient. So I applied for this – weeks ago – but am still waiting for it. I am uncertain that I will receive them any time soon, despite several phone calls to the relevant authorities in England. Shipping is another hurdle. It is now only allowed to send goods to the UK that are delivered in a special wood certified crate. That alone costs between 300-400 euros. Well, I accepted that. The Royal Academy is now requesting that the work be handed in unpacked by a specific time (Wednesday 11 May at 9.30am). will. So just sending is not enough! There are agencies that do it for you, i.e. send a package to this agency, they unpack and deliver to the academy. Fine! I found such an agency and also cleared this hurdle. Now I've been working closely with my carrier, filling out an incredible amount of paperwork, describing and photographing my picture, what I want with it in the UK, likely to be shipped back as sale is impossible due to missing tax number, etc. On crazy effort!
The picture had to be submitted to the UK at a certain point in time, but the situation at British customs is currently completely confusing, delivery promises can usually not be kept and the agency in England that is supposed to submit my picture warns of the catastrophic conditions customs . Transport by truck is virtually impossible, but feasible by air freight, but expensive. Now I had gone so far, everything was ready and I received a call from my forwarding agent: "Ms. Gramann, I have now all the costs together, please sit down!" It would have cost a whopping €4,000 to send my picture to London via Air Express so it arrives 100% on time!!! I immediately rejected this "offer". After all, "Dystopia" has only been nominated, not yet finally accepted and a possible sale is in the stars!
Nevertheless, I sent the picture, via TNT EXpress – still ridiculously expensive – and not sure if it would arrive in the scheduled time slot, but what one does not do for fame and glory! My carrier actually included a GPS tracker in the package so we could always track where the painting was. What can I say, it actually worked. "Dystopia" has arrived safely at the responsible agency and will now be presented at the Royal Academy. Now it's time to keep your fingers crossed so that my work is actually accepted.
Until then, a nerve-wracking, exciting affair – you never stop learning!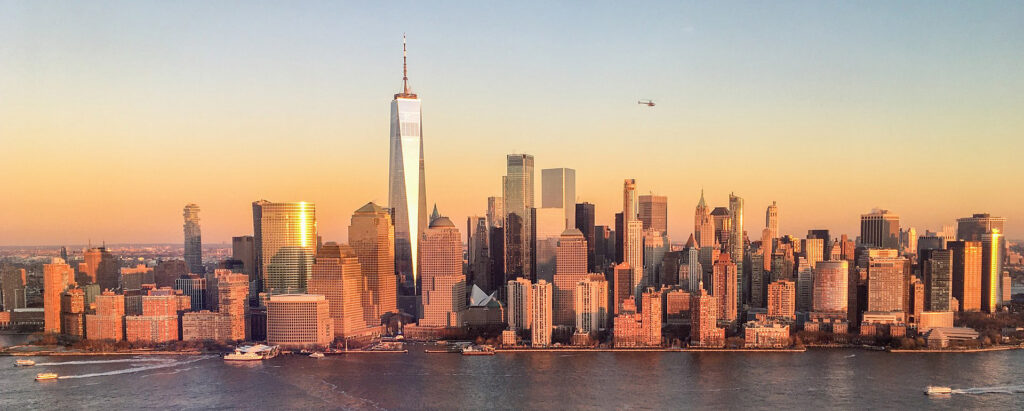 Exhibition in New York
02.09.-22.09.2022
Vernissage: 08.09.2022, 6:00pm
Group exhibition of my students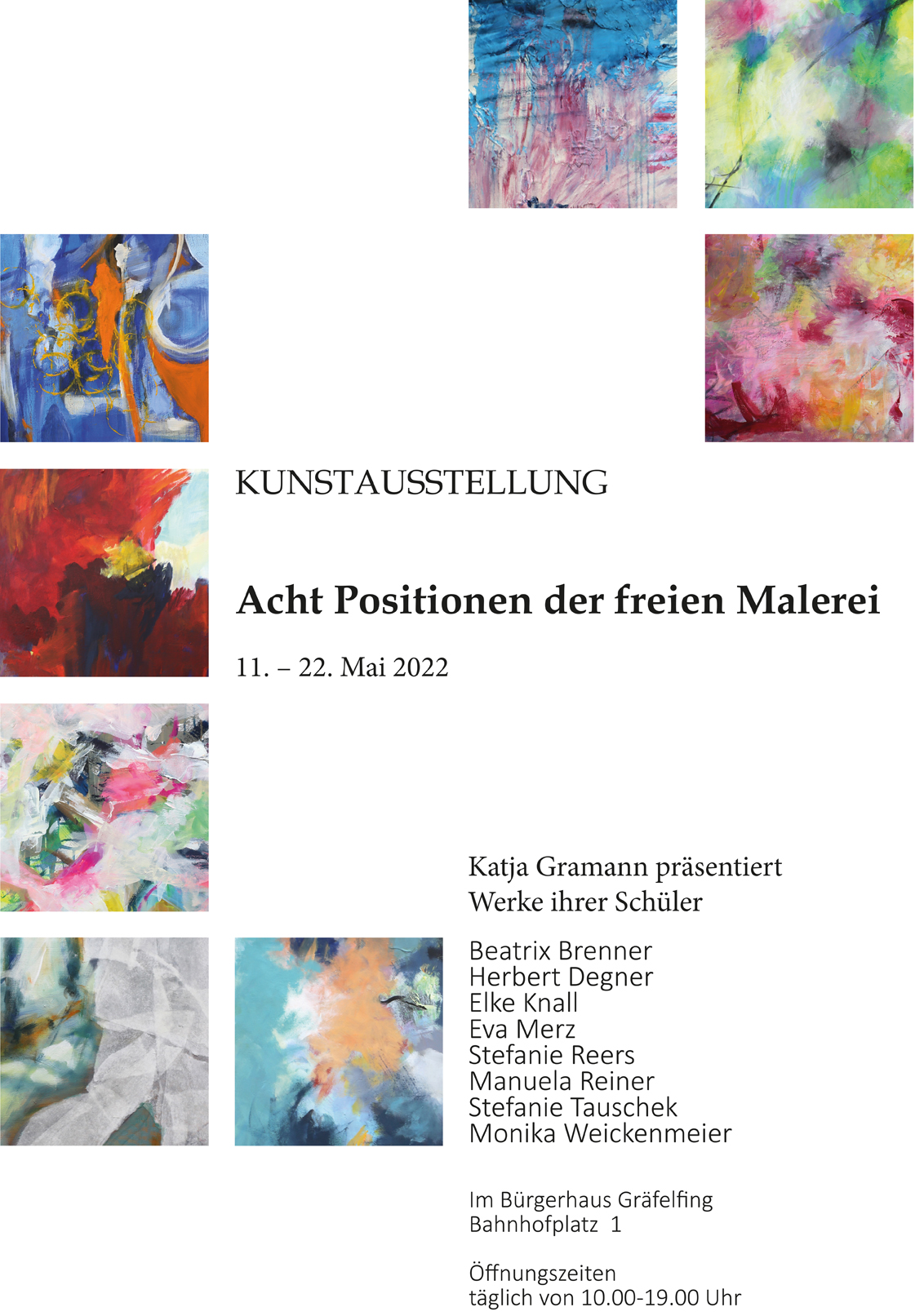 Eight positions of free painting
May 11-21, 2022
Vernissage: Wednesday, May 11, 2022, 7:00 p.m
Laudation: Katja Gramann
Place: Bürgerhaus, Bahnhofplatz 1, 82166 Gräfelfing
Opening times: Daily from 10:00 a.m. to 7:00 p.m
Since September 2020 I have been offering a course program for free painting in my studio. On Wednesday evenings and Friday mornings, a small group of 8 participants has formed, who can try their hand at the studio and deepen their painting skills individually. Now they are presenting their work in the community center in Gräfelfing. I am very much looking forward to presenting my students.
There are: Beatrix Brenner, Herbert Degner, Elke Knall, Eva Merz, Stefanie Reers, Manuela Reiner, Stefanie Tauschek, Monika Weickenmeier. Only the work of my students will be on display.
Parking: underground car park in the community center, entrance Flurstraße
S6 – stop Gräfelfing (the community center can be reached on foot in 5 minutes)
Visualize my works of art in your home with augmented reality!
Does the work of art suit me?
For all those who are unsure whether my abstract paintings really fit into their own environment and who may also live further away, so that "normal" sample hanging is difficult, I now have around 25 of the great works of art can be digitized so that you can easily try out with your smartphone or tablet whether your favorite work of art looks good on your wall. See for yourself!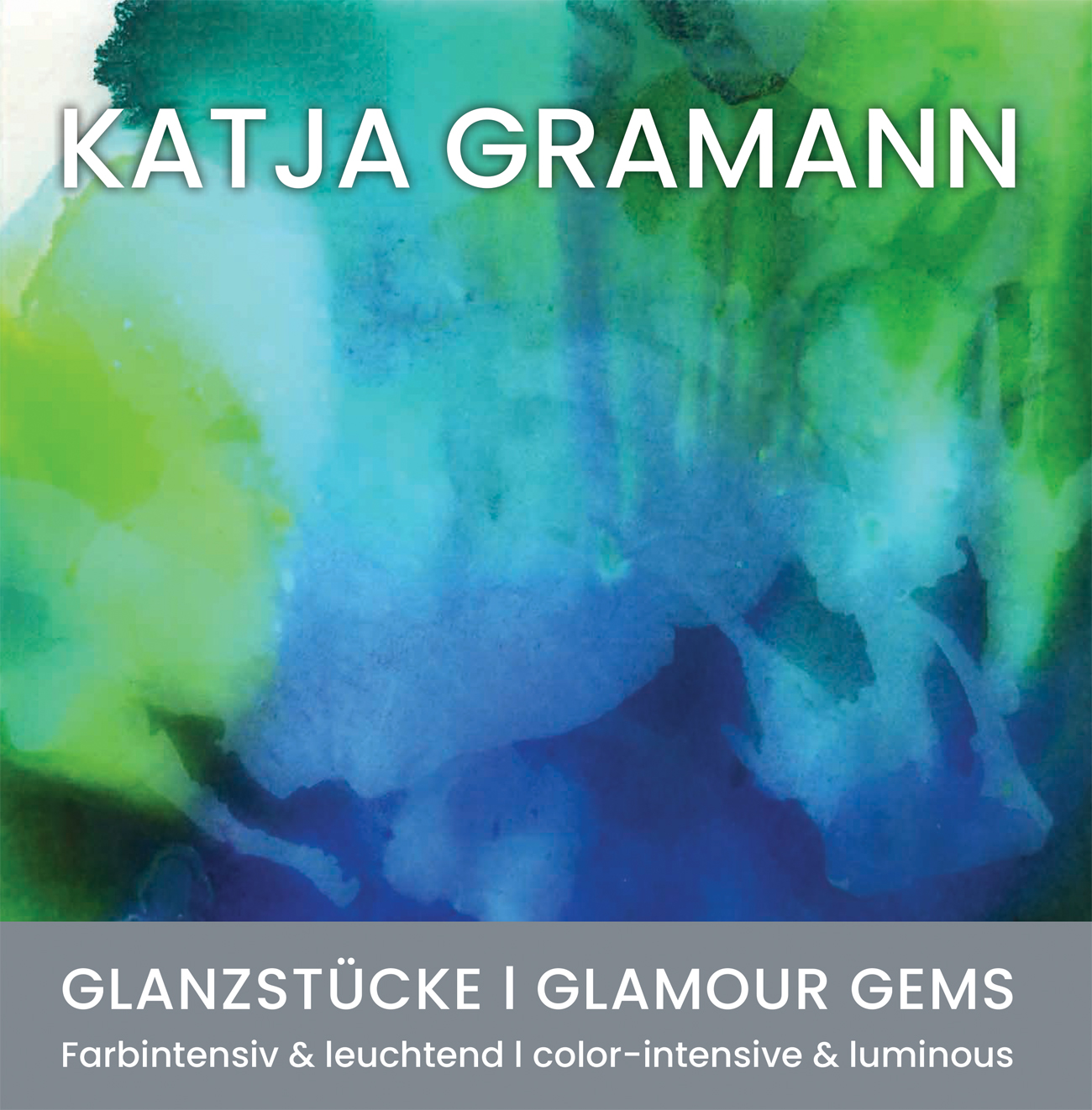 Acrylic painting catalogue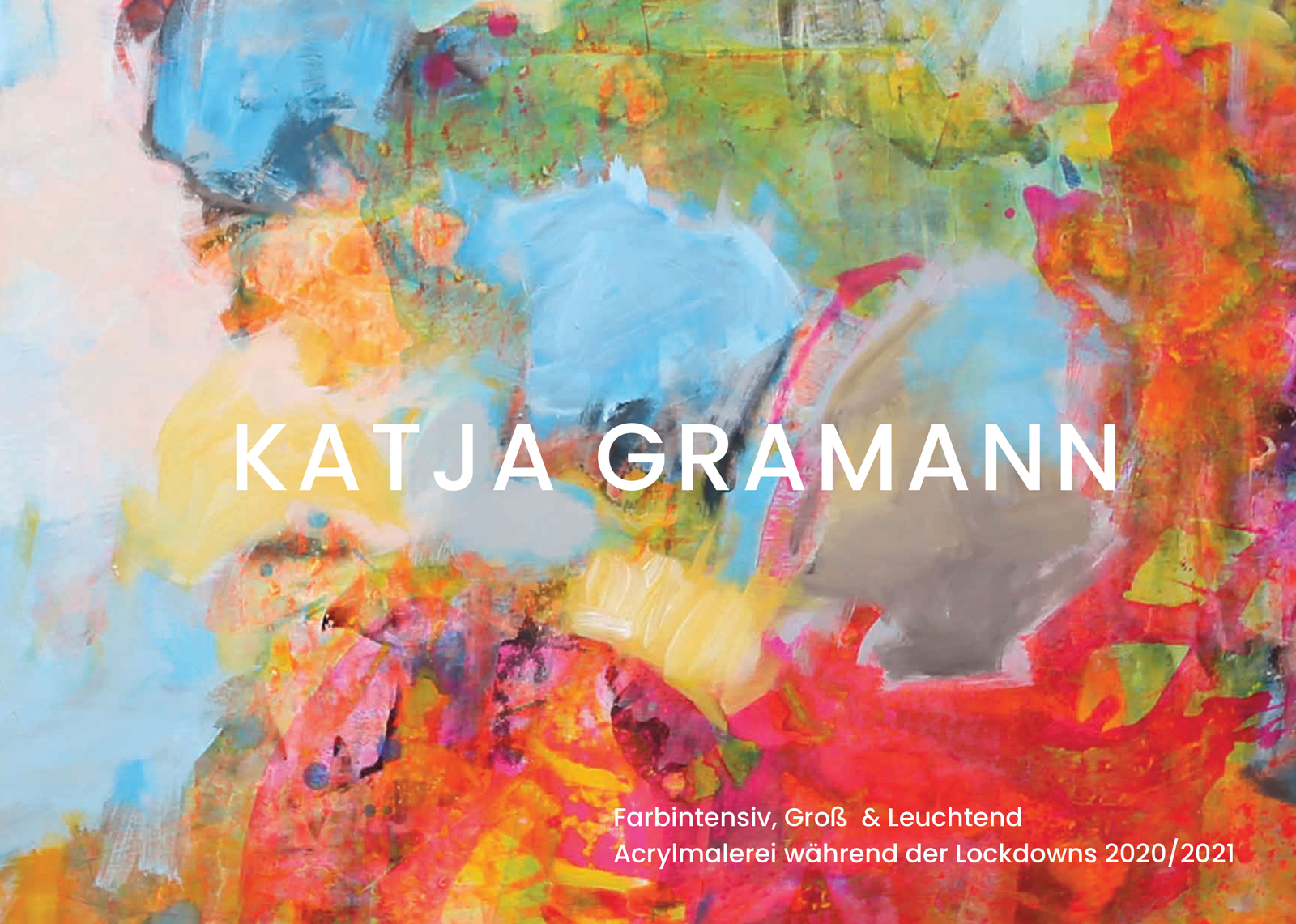 Painting during lockdowns
Corona has influenced each of us. For me it has led to a "painting against the sadness". I was really addicted to bright colors and large formats. The resulting works on canvas in acrylic, as well as the new series of masterpieces, I have each summarized in a catalogue, which can be ordered from me via email, I will then send them to you.
Cost per catalogue: €10.00 plus €1.60 shipping costs.
Painting courses in the studio and at art academies
Course "Reduced painting – how much" little "can you take?" At the Kunstfabrik Wien
4 day course
Friday June 24th – Mon, June 27th, 2022
More information about the course under the heading "Courses" on my website
Atelier opening times
Due to the current Corona regulations, studio visits are possible at any time. I am happy about your interest. Just call or email and make an appointment.
I would also be happy to deliver the works of art to your home in the Munich area, trial hanging of the pictures is still allowed, as is national and international shipping of the works.
Do You Have Questions?